Authorized - RMA Warranty Deposit (SR1800)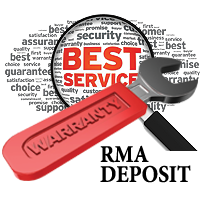 SolarRoyal Authorized Warranty Deposit:
This charge covers us shipping a replacement hood unit, everything but the base which should stay mounted to the roof, to you before you returning the defective unit. You will receive the replacement hood unit and with the same box return the defective unit. Once returned and confirmed, we will refund $165.00 to the credit card used but must be returned within 30days. The $30 difference is the cost of shipping as the shipping costs (both ways) is not covered under warranty. If you have any questions, please ask before processing the warranty and payment.
Once the unit is returned and we can see it is something that is not covered by warranty, we will notify you and deduct from the deposit the labor and defective items cost to repair. We will refund any remaining funds that are not accrued in a repair not under warranty. If your not familiar with how to remove the SR1800 Hood unit, please review this animated 3D instructions <CLICK-HERE>.