SolarRoyal 60Watt Solar Attic Fan (Ventilation) with Thermostat (SR1800 Series) SRSF-60W08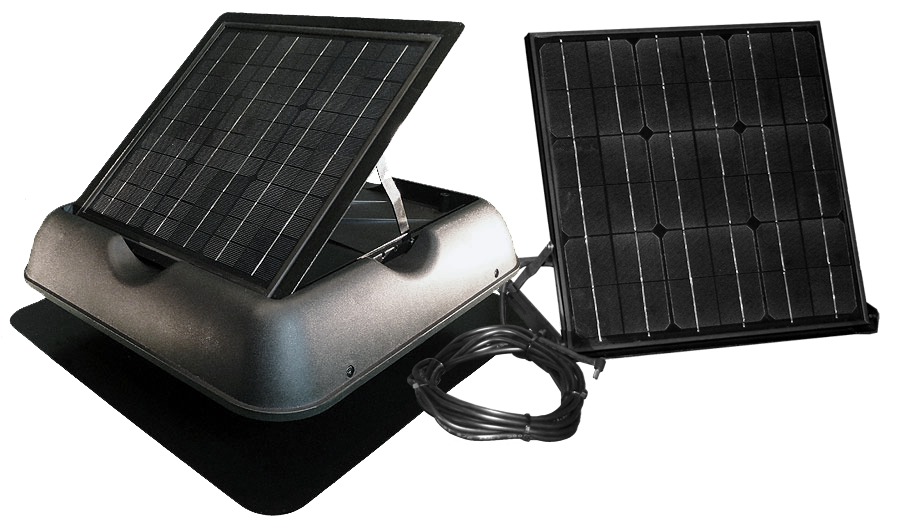 Trying to ventilate your attic, shed, boat dock, garage, barn, livestock pins, commercial spaces? Look no further! You have found the smartest solution for your solar powered ventilation needs.
High performance 30Watt recessed mono-crystalline adjustable solar panel with a second 60Watt panel that can be mounted next to or up to 25ft away to optimize the sun exposure.
Performance: up-to 2650 sq.ft. and ventilation capacity up-to 2100 CFM's.
Aesthetically superior and low-profile design.
Removable flashing-base for quick install and adjustment
Designed to perform in extreme weather
Windstorm Certified and rated
Thermal switch included
No cost to operate
Multi-layer noise dampening design.
Limited lifetime warranty service package also available online for registered residential customers
For more information on this model, please click HERE to visit our product information page.
If you would like to speak with a representative about your specific needs or to help compare another product you are considering, you can contact us via LiveChat, SupportDesk Ticketing System or Phone during office hours.